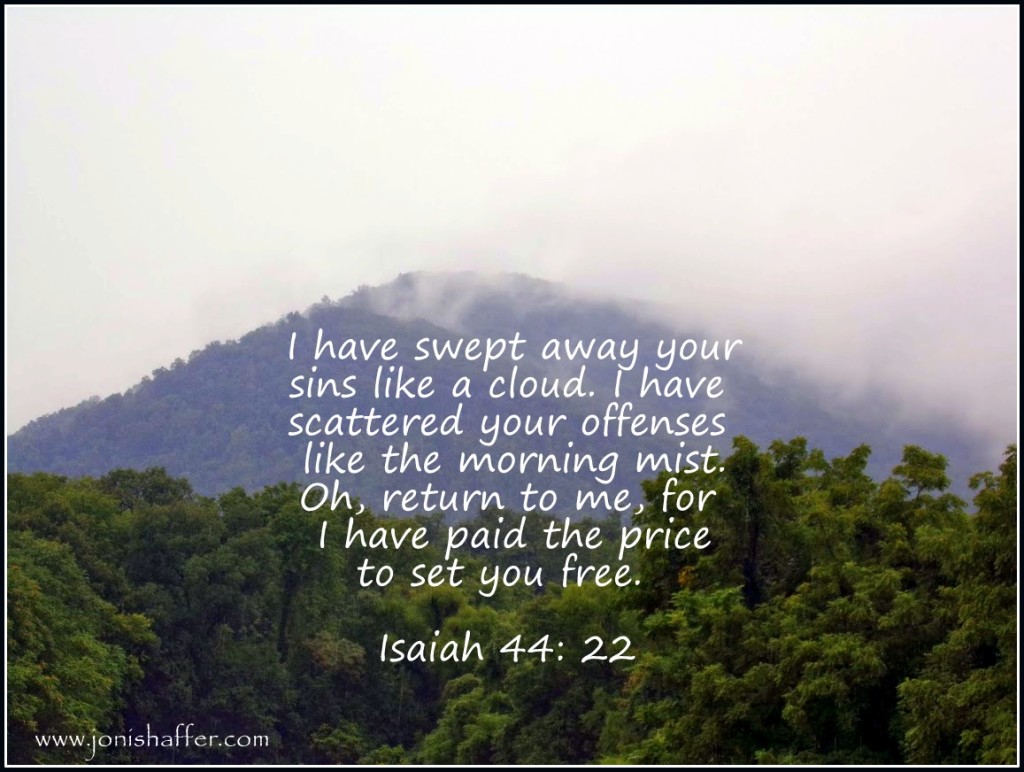 The Bible is full of scriptural references to the natural world. I find it fascinating when the everyday things in nature, which we often take for granted, provide us with a visual reminder of God's promises.
It's not uncommon for me to wake up in the early morning and find a thick mist has settled over the mountain. The mist can linger for hours making it difficult to see beyond the smokey haze. When walking outdoors or driving down the mountainside, it causes me to feel a little disoriented at times. I feel like I'm in a prison, unable to escape the suffocating effects of the fog.
I'm always relieved to see the mist fade away and the lovely mountain scenery reappear. It's a perfect reminder of Isaiah 44: 22. What a comforting thought to know God can sweep away our sins like the clouds and scatter our offenses like the morning mist.
Sin is disorienting. When trapped by sinful habits, we  feel suffocated, unable to see beyond the sinful life we are living. Sin that is not confessed separates us from God. It prevents us from growing in our faith and being the women God wants us to be.
No sin is too big for God to sweep away. In a world where nothing seems easy,  knowing we simply need to acknowledge our sin, confess it to God, and ask him to forgive us, is a wonderful thought. God's grace truly is amazing, and it's a gift we should never take for granted.
As the morning mist dissipates, revealing the beauty of the mountains, I'm reminded that a life cleansed from sin is a beautiful life.