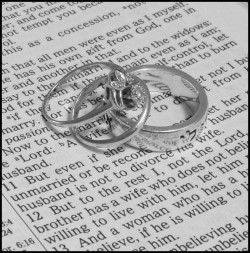 I'm celebrating my 40th wedding anniversary today. There is no milestone anniversary party planned. I won't be looking out the window watching for the local florist to arrive with a bouquet of yellow roses. I won't be waiting in anticipation to see if my husband got me a romantic card or special gift to celebrate our years together.
I will celebrate my anniversary alone.
What a difference a decade makes. I will never forget our 30th wedding anniversary. I was going about my daily routine when I heard a knock at the door. I opened the door to find the local florist delivering 31 beautifully arranged roses. There were 30 yellow roses and a single white rose. My husband had ordered a yellow rose for each year we were married and a white rose to represent our future together.
I was delighted, and our future seemed so promising that day. We had made it 30 years, and I assumed we would stay together until death took one of us.
I never imagined my husband would leave a few years later and move to another state to begin his life with another woman. There was no goodbye. No sitting down and telling me what was wrong. No warning. He just left one day, changed his cell phone number,  and never came home.  Suddenly,  my husband was gone. My four children's father was out of their life, and the grandchildren no longer had a pap who played with them on Sunday afternoons.
That was 5 years and 7 months ago. We are still married. He filed for divorce a few years ago, but due to a glitch in the court system, the divorce hearing was postponed. It was rescheduled for a later date. A few weeks prior to the date, I received a text from my husband saying he canceled the divorce and was going to think about things. Strangely, I received papers from the attorney and the court stating we had reconciled, even though we hadn't.
A lot has happened since then, but I won't go into specific details.  We talk on a regular basis. My husband has helped me out financially many times, and he put me back on his health insurance at work.
I don't know what the future holds, but I'm continuing to leave it in God's hands. I've been told by many people that I'm crazy for putting up with my husband. I've been told I should file for divorce. I've been told I should date and that I deserve someone better than my husband.
I hear from Christians that God wants me to be happy, and God doesn't want me to remain in this marriage. I've been told I have biblical reasons for divorce. I've been told God has someone special out there waiting for me.
However, I strongly feel God is leading me to trust him and continue to live my life as a Christian wife. I've never felt led to pursue the divorce.  I'm not buying into the God- wants-nothing-but-my-happiness line. God wants me to be obedient to his word and his truth more than he wants my happiness.
I've continued to live as a married Christian woman after my husband left, and I will continue to do so.  I don't have to answer to God for what my husband is doing. I only have to answer to God for my own actions. I would rather be right with God, and dealing  with the loneliness and pain of a broken marriage, than be living a life of sin and separated from God.
I am choosing to honor God and  my marriage vows, even though my husband is not. I must pray for his salvation and pray he gets his life right with God before it's too late.
Think about it. If your spouse was diagnosed with a horrible disease would you turn your back on them? Sin is a horrible disease that is capable of sentencing one to eternal hell and separation from God. We need to pray for our spouse's salvation when they fall into sinful living.
Being right with God, and knowing where we are going when we leave this world, is more important than the state of our marriage.   I'm sure the people who recently lost their lives in the terror attacks on Paris never imagined their life would end that night. Death often comes suddenly and without warning.
After reading about my marriage issues, I'm sure you probably wonder why I would choose to celebrate a broken marriage on my 40th anniversary. The answer is easy. I'm choosing to focus on the positive stuff rather than only seeing the negative.
I'm celebrating because:
God joined me and my husband together in a covenant marriage for a reason.
God allowed me to experience love, marriage, and intimacy.  I got to experience what it was like to walk down the aisle and marry the man I love.
I got to experience life as a military wife.
I got to experience the sense of pride a military wife feels when she sees her husband in his uniform.
I got to experience the agony of being separated while my husband was deployed and the excitement of finding a letter in the mailbox to brighten my day. I still have every love letter and card he sent me.
I got to experience the joy of my husband returning home from those deployments safe and sound.
Because of our life together, four amazing children were brought into this world. I will never forget seeing them for the first time and the thrill of a newborn baby being placed in my arms.
I had the privilege of being a stay-at-home mother for my four children. I never missed a first smile, first step, or first word.
I now have five precious grandchildren to love as a result of that trip down the aisle 40 years ago.
Our legacy of love will continue to grow, through our children and grandchildren, long after we depart this world-all because we walked down that aisle 40 years ago.
What does it look like to celebrate an anniversary alone? For me it means taking a trip down memory lane. I will order take-out for dinner and look back at the cards and letters from years gone by. I will look at photos of the children and grandchildren and thank God for the incredible blessing they have been in my life.
I will spend some extra time in prayer for my husband. I will spend some extra time thanking God for the wonderful gift of marriage that he allowed me to experience.
But most of all, I will thank God for his amazing grace and for giving me the strength to continue walking this difficult journey as a married woman living alone.
Today, I am choosing to rejoice and celebrate. I am choosing to be thankful for the incredible blessings God has brought into my life since I was a starry-eyed young girl walking down the aisle 40 years ago.
Rejoice always; pray continually; give thanks in all circumstances, for this is God's will for you in Christ Jesus. (I Thessalonians 5: 16-18)