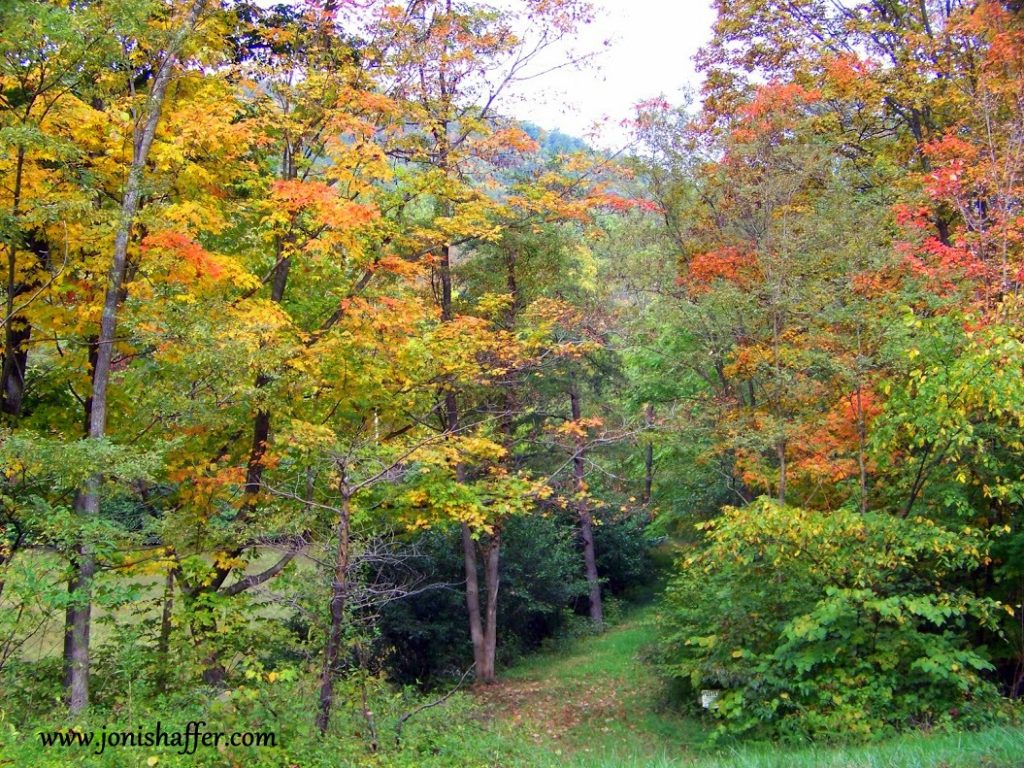 You care for the land and water it; you enrich it abundantly.
Psalm 65: 9
A light rain was falling this morning as I headed out for my morning walk. The cool mist felt rather invigorating after a restless nights sleep. A gentle breeze was swaying throughout the trees, causing a shower of leaves to fall over me in a kaleidoscope of colors. I was reminded once again of the blessing and wonder of God's creation.
Being surrounded by nature always fills me with peace and contentment, and a walk through the woods is the perfect prescription for whatever ails me. Cares seem to drift away to the tune of the twigs and leaves snapping and crunching under my feet.  Anxiety dissipates and depression is lifted as I inhale the musky, sweet perfume of the mountain air.  It's impossible to be enveloped by nature and not feel overwhelmed by thankfulness for the abundant blessings God has given me.
In Psalm 65 we read about how God cares for the land and enriches it abundantly. As I drive past the local farmer's roadside produce stands I'm reminded of Psalm 65: 11:
You crown the year with bounty and your carts overflow with abundance.
We were blessed with plenty of rain this summer, and the local farmer's produce stands are overflowing with bright pumpkins, succulent squash, and juicy melons. Corn, wheat, oats, and barley crops were plentiful. The farmers enjoyed an abundant harvest this year.
The way God cares for the land can also be used as a metaphor for the way God cares for his people. Jeremiah 31:14 tells us:
" 'My people will be filled with my bounty,' declares the Lord."
Just as God enriches the land with abundance and beauty, he also enriches us abundantly with his love and grace. Sadly, we often neglect to seek his abundance. We turn to other things that rob us rather than replenish us. God is all we need. His provision is far more abundant and is way beyond and above what anyone or anything else can provide for us.
When we open our hearts to God and willingly receive his abundant blessings, he will drench our souls with his amazing love and grace. Like an enriched landscape, we will reap a bountiful harvest, as his love saturates our hearts and we overflow with joy in his presence.