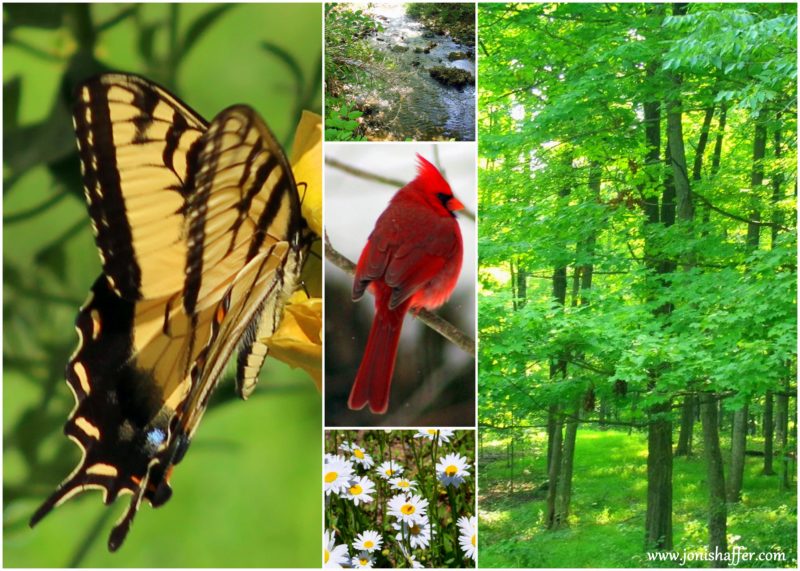 I will praise you, O Lord, with all my heart; I will tell of your wonders. I will be glad and rejoice in you; I will sing praise to your name, O Most High.
(Psalm 9: 1-2)
Sunlight flickered through the window of my home office, enticing me to put aside my work and go outside for a morning walk.  Eager to indulge in my hobby of photography, I grabbed my camera and headed downstairs.
The fragrance of the summer mountain engulfed me as soon as I stepped outside the door. I inhaled deeply, as the sweet and musky scent lured me into the woods, as if I was being courted by the Most High.
The first light of day peeked between the towering trees, creating a sunlit path for me to walk on, wooing me away from the cares of the day.  Meandering along the sunlit path, I was serenaded by a cardinal's song, the sweet twittering of the finches, and the pecking of a woodpecker nearby.  At times they sang solo, and at times they joined together in unison, their melodies reverberating throughout the woods in heavenly harmony.
Summer daisies held their white and yellow heads high on spindly stems, swaying in the June breeze , creating a stage for a butterfly performance. I paused to watch the butterflies dancing from flower to flower; their stellar show was a lovely reminder of the power of transformation. If God can change a lowly caterpillar into a beautiful butterfly, imagine how much he can change us!
A symphony awaited me by the side of the creek. I stopped to listen to the water trickling over the rocks, resounding forth a refreshing melody. The sun's rays cascaded through the trees creating diamonds on the face of the water. The diamonds shimmered in tune with the trickling song of the creek – a token of nature's beauty.
Overcome with thankfulness for the beauty of a simple morning walk through the woods, I paused near  a crooked little tree, which held a unique beauty of its own, to say a prayer of praise to the Most High – A prayer of gratitude to the One who blessed me with the sweet mountain fragrance, a sunlit path, a birdsong chorus, summer daisies, a butterfly dance, and a creek side symphony.
Where is God leading you today? Is He wooing you to set aside some time to follow Him to a place of rest and renewal? Whether that place is a room in your home, a park bench in a crowded city, or a secluded mountain, God loves it when we spend time alone with Him.
There is nothing like being courted by the Most High!