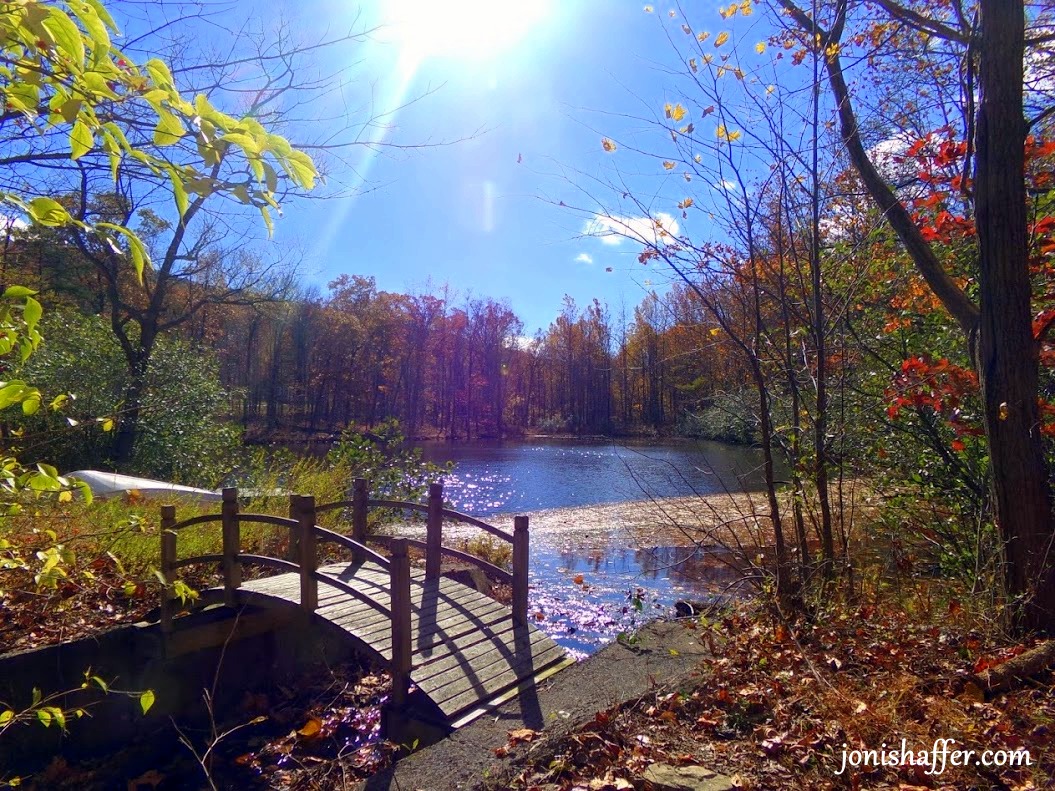 Come, let us worship and bow down; let us kneel before the Lord our Maker. For he is our God, and we are the people of his pasture, the sheep under his care.  Psalm 95: 6-7
The sun filtering through my home office windows this morning was a huge distraction.  After enduring overcast and dreary weather for the past week, the sunshine was a welcome change that I couldn't resist. I knew I wasn't going to get much writing done until I went outside and soaked up some sun.
I grabbed my bottle of water and headed off on a morning adventure. I made my way to the pond and sat by the pier overlooking the water. The beauty of nature never lets me down, and I certainly wasn't disappointed on this beautiful fall morning.
Though the air was a little nippy, I enjoyed the breeze as it caressed my face. I inhaled the fresh mountain air, exhaling my cares into the wind. Woodpeckers were busy drilling away at a tree nearby, and a large flock of crows were busy flitting from treetop to treetop carrying on a noisy conversation in the distance. Finches and sparrows could be heard singing their own unique tunes.
The reflection of the autumn trees danced on the surface of the rippling water, their red, orange, and yellow hues casting a kaleidoscope of colors across the pond. The sky was a brilliant blue with cotton-like clouds making an appearance from time to time, as they drifted overhead without a care. Once again, I was amused by the lessons I learn just from observing the world around me.
As I gazed at the towering trees swaying above me, I was reminded of God's power and that I never need to fear I will be too weak to accomplish anything when I depend on God's strength to guide me. As the morning breeze kissed my face, I was reassured that God is always with me, and even though I can't see him physically, I can feel his presence surrounding me.
The reflection of the trees on the surface of the pond was a reminder that Christ is to reflected in my life, so that others may come to know Him. The song of the birds was a reminder that I have a reason to sing, regardless of my circumstances, because Jesus died on the cross for me.  And like the birds, I must boldly sing my Heavenly Father's praises each day, so that others will see His joy resounding through my life – a  true and lasting joy that only comes from knowing Him.
I'm so thankful I can enjoy the beauty of nature right outside my door, and I am always grateful for the privilege of working from home and being my own boss. I would not trade it for the most elaborate job in the world that required me to clock in and remain in an office building for eight or more hours a day. Not a single day goes by that I don't thank God for allowing me to work from home, and I never take it for granted.
No matter where we are, the world around us is filled with lessons of faith if we take the time to see them. What is God showing you today through the world around you?