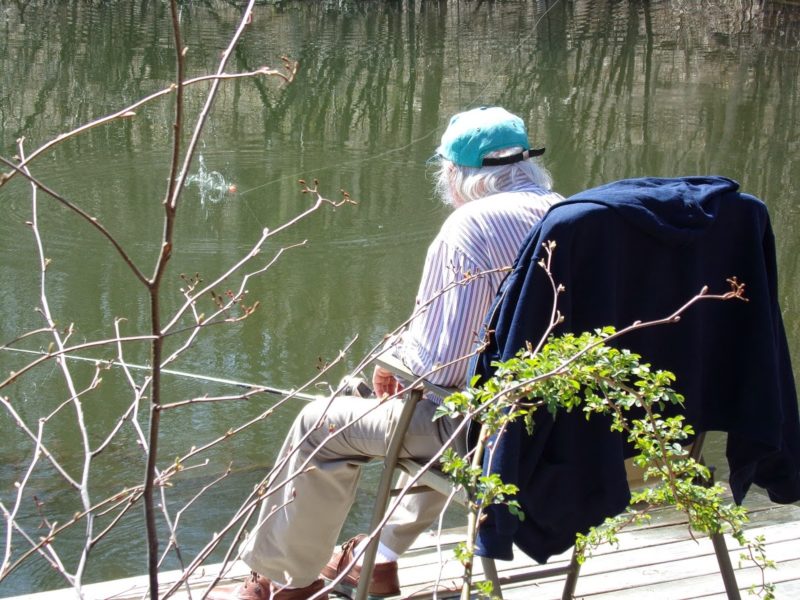 Dad went home to be with the Lord last week. I am so thankful for every minute I had with him in the past month. He enjoyed fishing. The photo above was taken of him last spring by my pond. I was looking forward to more days spent with him fishing by the pond this spring. However, God had other plans, and I can rejoice knowing he is in a better place and his days of suffering are over.
The eulogy I wrote and read at his funeral service is just a mere glimpse of the many wonderful memories I have of Dad. I am blessed to be his daughter and for the impact he had on my life.
Dad's Eulogy
When someone dies, it's a reminder of what truly matters in life. It doesn't matter how many years we have on this earth. When our time is up, the only thing left is the memories we leave behind.
Throughout our lives, every word we speak, how we treat others, and every choice we make, whether good or bad, will be woven into our life's legacy of memories.
Today, as I say goodbye to my dad for the last time, I'm thankful for the memories he left behind and for his influence on my life.
My brothers and I had a wonderful childhood growing up on the farm. Mom and dad were both committed to each other and to us kids. We rarely heard them argue. Our parents weren't perfect, and I'm sure they dealt with many of the same issues all married couples deal with, but they believed marriage was forever. We never had to worry if our parents might get a divorce or split up, and we never knew the meaning of a dead-beat dad.
Dad's work ethnic was strong. He farmed seven days a week, and he never took a day off until he retired. In fact, I never knew anyone who worked as hard as dad. Life revolved around the barn and field work.
We didn't spend our childhood playing video games, watching hours of TV, or goofing off. We were expected to help with the work, and saying no was not an option. I disliked the itchy and sweaty job of unloading straw, but no amount of complaining in the world would have gotten me out of it. Dad didn't put up with whining kids or lame excuses.
We didn't play sports when we were kids. We never went to Disney World or took family vacations, but I wouldn't trade my childhood memories for time spent at the fanciest vacation resort in the world. I will always treasure the memories of summer days spent running through cornfields, the sweet smell of fresh-mowed hay, feeding calves, driving tractors, and seeking refuge in the big stone farmhouse during summer afternoon thunderstorms.
I've always liked the song Daddy's Hands by Holly Dunn. One part of the song always makes me think of dad.
"Daddy's hands were soft and kind when I was crying. Daddy's hands were hard as steel when I done wrong. Daddy's hands weren't always gentle, but I've come to understand, there was always love in daddy's hands."
Dad's hands were hard as steel when I needed disciplined, but when I was sick or hurt his strong hands were soothing and reassuring. I'm grateful for a dad who taught me to respect my mother, as well as respect other people, and who disciplined me when I didn't.
I never doubted dad's love. It was a constant presence in my life from the time I was a child through my adult years. I came down with a horrible bout of the flu several years ago. Dad insisted on coming to stay with me. I told him not to come over, because I didn't want him to get the flu. Ten minutes later, he was at my door and announced he was spending the night. He was worried about me and didn't want to me be alone when I was sick.
Dad was a man of many talents. If you walk into Lowes or Home Depot, you're likely to see plenty of ideas for do-it-yourself projects. Dad was the master DIY guy. He didn't believe in calling a professional when he could rig something up himself.
Dad was an electrician. Now I won't say his work complied with the standard electrical codes, but he could fix any electrical problem you had. I remember the time the main breaker broke at my house. I called an electrician who told me he would not touch it until I had the power company shut off the power to the house. Dad told me I was foolish to call an electrician when he could fix it. He showed up at my house wearing rubber boots and rubber gloves. He stood on a wooden block to reduce the risk of electrical shock in case he touched the wrong wire. He fixed it, it worked fine, and nobody got electrocuted.
Dad was a plumber. Family members often called on dad to fix plumbing issues. Why call a plumber when dad was a master at splicing old garden hose and working with duct tape? Professional plumbers were baffled when they saw dad's plumbing work, but they couldn't deny the fact that it somehow worked.
Dad was a lumberjack. He could predict with accuracy exactly where a tree was going to fall. One time a huge tree died behind my house. I wanted to call a tree service to take it down. Of course, dad thought that was silly. He showed up, chainsaw in hand, estimated that the tree would clear the house by about six feet, and got to work. The tree fell exactly where he said it would and the house was still intact.
Dad was a firefighter. Why call the fire company when you can put out your own fire? My wood stove caught fire one time, followed by the chimney catching fire. I ran to get the phone, but dad stopped me and said, "Why have all that commotion? If you call them they will just send out a bunch of fire trucks and an ambulance." To make a long story short, dad, along with the help of my son Justin, got up on the roof and used hot water and a hose to put out the fire. It left quite a mess in the basement, but at least the house didn't burn down.
Dad was a butcher. He loved to cut up deer meat and make deer bologna with my son Justin. I will never forget coming home to find a deer on my kitchen counter. Blood was dripping down the cupboards. The kitchen floor was covered in bloody footprints, and my dad was smiling from ear to ear. When he saw how irritated I was by the mess, he couldn't stop laughing.
Dad was a babysitter. He was babysitting Heidi one evening while I went to a meeting. She was about four or five years old at the time. I will never forget coming home and wondering why the house smelled like rotten fish. The sight of several containers of Power Bait on my coffee table was rather surprising. If you aren't familiar with Power Bait, it's a product used for fishing. It looks like and has a consistency like Play-Doh and smells like rotting fish. Heidi was happy with her creation. When I asked dad why he allowed her to play with that stuff, he just laughed and said because she wanted to. Dad was a good babysitter, but you never knew what you were going to find when you got home.
Dad was a good Samaritan. He helped everyone and would have given the shirt off his back to someone who needed it. My mom nicknamed him "Mr. Good Heart." He could always be counted on to help someone in need. He often went beyond what he needed to do, and he never accepted money for helping others.  I can't count all the times dad was there for me when I needed him, but I will be forever grateful for what he has done for me.
There are a few things dad wasn't. Dad was not politically correct. If you asked his opinion on something he was brutally honest. If he thought your new hairstyle looked terrible he would let you know. If he thought you were doing something wrong he told you about it. One of his favorite sayings was: "Well, I just tell it like it is."
Dad wasn't a neat and tidy person. His vehicle often doubled as a tool shed or wagon. I could hear his old truck coming from a mile away with ladders attached to the side and the bed filled with junk and tools.
Dad wasn't known to buy very many new things. When I was a kid, I didn't know tractors could be started by turning a key or pushing a button. Most of dad's old farm equipment and tractors had to be started with a screw driver and a can of ether. Dad often parked his tractors on the barn bridge so he could coast them to get them started.
Dad was not a landscaper. When dad mowed grass he never moved anything out of the way. He simply mowed around stuff. He also didn't seem to notice newly planted flowers or bushes. I lost an entire butterfly bush one day when dad mowed my grass.
Dad developed some health issues in recent years and battled with depression. He wasn't the same dad we knew before, but one thing never changed – his love for his kids. No matter what, dad worried about us kids, and there is nothing he would not do to help us out. True love conquers all things. Dad's love remained consistent and strong even during his depression.
Dad accomplished many wonderful things over the course of his 83 years on this earth. However, he saved the greatest accomplishment for last. A month ago, after dad suffered a stroke, he became a Christian. I will never forget the sound of my dad, with his speech garbled from the effects of the stroke, reciting the prayer of salvation in the emergency room with me and my brother Jody present to witness the event.
Because of dad's decision to say yes to a relationship with Jesus Christ, I can stand here today and know with assurance that heaven has gained another old farmer. Dad is no longer suffering from the pains and struggles of this world, and I can rejoice knowing he is in a better place.
I will miss him, but my life is better because he was part of it. And each time I pass by the old family farm, I will thank God for the blessings of wonderful father and the legacy of memories he left behind.