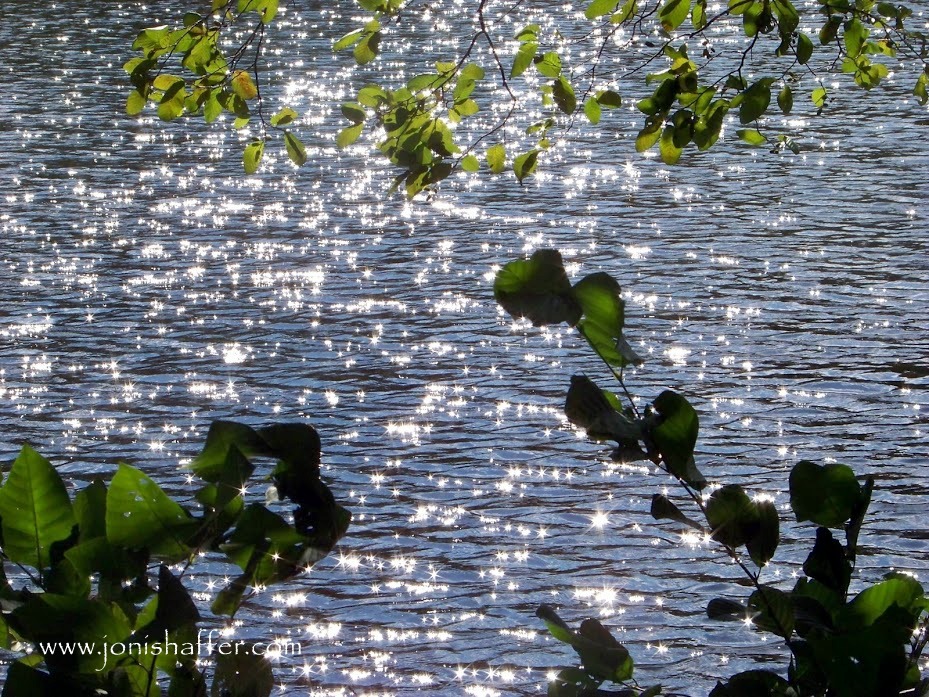 The Lord is my shepherd, I lack nothing. He makes me lie down in green pastures, he leads me beside quiet waters, he refreshes my soul. (Psalm 23:1-3)
My soul was refreshed as I sat by the pond this morning. I was mesmerized by the beauty of nature and the thousands of diamonds sparkling on the surface of the water. Taking a break from technology to enjoy the world God created is the perfect prescription for stress.
I'm so thankful for the Shepherd who leads me to places of refreshment and away from the chaos of everyday life. He is waiting to lead each one of us to the quiet waters, but we must be willing to pause in the midst of our busy schedules and follow him.
Be still and know that I am God. (Psalm 46: 10)
I wish I would have learned the importance of being still sooner rather than later. It's taken me years to learn how to slow down and make time to rest in a world that seems to be in constant motion. At times my life was so busy and demanding that entire seasons passed by and I barely noticed.
Like many women, I had fallen prey to the superwoman syndrome. Deceived by the world's standards, I thought success meant adding one more thing to an already full plate of activities. l just kept going, rushing from one thing to the next, always doing something, never taking the time to be still and rest.
When we search the scriptures, we see God's way is usually just the opposite of what our society and culture tells us to do. God did not create us to be super women. He created us to be women who walk by faith and in obedience to his word. He desires us to be women who trust in him.
In 1 Peter 3: 3-4, we learn that a woman who has a gentle and quiet spirit is of great worth in God's sight.
Your beauty should not come from outward adornment, such as elaborate hairstyles and the wearing of gold jewelry or fine clothes. Rather, it should be that of your inner self, the unfading beauty of a gentle and quiet spirit, which is of great worth in God's sight.
That doesn't mean we can't have nice hairstyles or wear jewelry, but those things are not what makes us beautiful in God's sight. God looks at what is inside.
How do we cultivate a quiet and gentle spirit? By taking the time to be still and know God. If we are always plugged into technology or rushing about, we won't have time to pray or read scripture.
And we can't just wait until we find the time to be still. We have to plan our quiet time or it will never happen.
Disease and psychological disorders are often linked to unrelenting stress. It seems the superwoman syndrome only creates sickness and leaves us feeling empty, exhausted, and irritable. It suffocates any glimmer of quietness and gentleness within us. It renders us ineffective and weary, with no energy left to do the things God placed us here on this earth to do.
Unfortunately, we are a generation of women who have forgotten how to be still and know God. We wonder what's missing and why we feel so tired all the time.
Our Shepherd is waiting to restore our souls and give us rest. We simply need to follow him. True refreshment will not be found elsewhere. It is found only in the one who is waiting to lead us beside still waters.