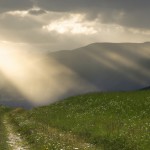 In the mountain, the melodious song of the birds seems to resound as a beautiful song of praise to the one who created all creatures great and small. I pray the words I write will, likewise, be a song of praise offered up in joyous prose to the glory of my Heavenly Father.
Writing nourishes my soul. It's my passion.  However, while my passion for writing has always been strong, the fear of failing and the pursuit of perfection was even stronger. Throughout my pursuit of trying to become good enough to share my writing, I felt God nudging me to write from the heart and trust him for the outcome.
I'm letting go of fear and stepping out in faith to do what God has called me to do. I'm not a perfect writer.  I'm not an abide-by-all-the-rules writer. I'm not concerned about how many followers I have on social media. I'm a writer, with a heart for God, who is passionate about glorifying Him through the words I pen and the photos I capture.
I'm not a professional photographer. I simply enjoy capturing photos of life and the beautiful world God created. I believe a picture truly is worth a thousand words. I pray the photos I share will reveal the wonder of God's awesome and amazing creation.
Saved only by God's amazing grace, and called to write for his glory, I humbly accept my calling with awe and gratitude. My goal is not to be politically correct but to be biblically correct. I will always strive to boldly and accurately share God's truth as revealed in the scriptures.
Whether I touch the life of one person or many is not important.  If a burden is lifted, if someones world is made a little brighter, if a smile is brought to a face, or a heart  is encouraged, my writing and photography will have served the purpose for which God has called me.


May the words of my mouth and the meditation of my heart be pleasing to you, O LORD, my rock and my redeemer.  Psalm 19: 14